Hello cousins Barbara and Carolyn and families!!!
I'm here! And taking it all in, but still working out who is who and what is what. It's fantastic to know I have such a big family when I never knew you. I'd love to get to know all of you and hope we will meet up one day.
I am Edward Leonard Taylor, Alex is my brother and Anne and Elizabeth are my sisters. I am the only one left in England, they all "deserted" me including my mother and father to go to Canada. As far as I know there are no other relations in England, does any body know of any one?
I am a chef by trade but for over 20 years have been in hotel management. No I don't cook at home, Thalia my wife only allows me in the kitchen as an apprentice chef!
We have two children, Wendy Helen, who is married to Mark John Stanborough. They have a son, John Edward and he is six years old.
Our son is Jason Edward, who is married to Sara Suzanna, and they have two children, Robyn Kira, who is seven years old, and Luke Harrison, who is four years old.
I am sorting some family photos to send to you soon. Meantime, I will attach some old photos which will be of interest, including some which I cannot identify. Perhaps someone will know who they are. Because of the quantity, a few will come on several downloads. Each file has its own description, and on some I have used the sign (!) as a (?) meaning I don't know.

I am adding Wendy and Jason to the sending list to keep them up to date in the family history.
p.s. Yes, I have been known to be the quiet one of the family……….very good guess Barbara!
Best Wishes
Edward (Thalia says hello but does not do computers!)
---
Well, Edward, you certainly have redeemed yourself!! What incredible old photos!! (and a few of some cute kids too - not all that long ago!!) ;-)
The "Gran Taylor" ones are especially intriguing. Was it your Gran??? or Ted's (what is the source of the info on the photos?) It doesnt look a lot like Elizabeth Tindall Taylor (though I have to study them more to feel sure) - do you think it could be Alexander's mother (Sarah Austin)?? I think that is possible because I remember when I spoke to Liz on the phone Uncle Ted said that "Dad's people" had come from Surbiton. (I made note of the place because I hadnt found anyone there before) Since then I found that Sarah Austin (Alexander's mother) had spent most of her life in Surbiton including a time when her grandson Alexander (and his sisters born in Peru) lived there with her. In the "Gran and her Mother" - this Sarah would have been the Mother (Born 1805, died 1882 in Surbiton) Census info below in case anyone is interested.
Young girl with flowers is likely Aunt Marie - usual in the US to send family photos as a postcard - the Rose is my Gran and Steve (Shoosmith) her husband. My Gran in her memoirs writes " Then Steve was drafted just outside Yarmouth. It was easy to get lodging with board in those days and we were very happy living with a lady and her niece. We lived in Yarmouth which was a herring fishing town, and when the boats came in anyone could take a bag and get it filled with herring and mackrel free. Marie at one and a half could eat three mackrel backs. Then the influenza epidemic came, so many people died they didnt have time to bury them. Marie was the only one of us who caught it and she laid like one dead for days, they called her the dead baby.................. "
So that photo is a real treasure! The military I am guessing are William Wallis "friends" based on places and dates but it will be interesting to try to figure them out - certainly lots of female friends!! Leonard's patch is wonderful - I will put together some info on what I found of him. The photo looks just like his picture with the family!
Now I have to go back and look more closely at those wonderful photos!!! Thank you so much!
(And I previously had a brief - wicked - thought of suggesting we have our family reunion at your lovely elegant inn - just as a joke - dont really think family reunions would do anyone's career any good! ) But I wont even try to jab at you that way, now!!! ;-)
Census info from Rose and Ted's Great Grandmother below. Sarah Austin (1805-1882) Her daughter Sarah Austin Taylor (1836- ??) was Alexanders mother - thats Alexander with his grandmother in the 1871 census.
Barb
1841 Census: 107/718 ED 3 9/9
Hampton, Middlesex High Road All born in County
Richard Austin 42 Carpenter
Sarah Austin 36
William Austin 11
James Austin 9
Sarah Austin 5
Benjamin Austin 2
1851 Census: LDS Film # 0193502 HO 107/1603
George St Surbiton, Surrey
Sarah Austin, Head, Widow 45 Parish Relief born Surrey Hampton
William " , son, 20 Ag Lab born Surrey Hampton
James " , son 17, " " born Surrey Hampton
Benjamin " , son 11, born Surrey Hampton
Robert " , son 9, born Surrey Hampton
Betsy " , dau 7, born Surrey Hampton
Katherine " , dau, 3, born Surrey Hampton
Frederick " , son, 4 months, born Surrey Kingston
1861 Census: RG9/457 79/34 St Marks Surbiton
Brighton Road Kingston on Thames
Sarah Austin H Wid 55 Greengrocer Middlesex Hampton
Kate Austin Daughter 12 Middlesex Hampton
Frederick Austin Son 10 Surrey, Kingston
1871 Census
Civil parish: Kingston on Thames Ecclesiastical parish: St Mark
County/Island: Surrey Country: England
Source information: RG10/861 Registration district: Kingston
Sub-registration district: Kingston ED, institution, or vessel: 19
Folio: 86 Page: 5 Household schedule number: 28
Sarah Austin 66 Hampton, Middlesex, England Head
Kate Austin 22 Hampton, Middlesex, England Daughter
ellenetta (Unknown) Taylor 11 Pera Granddaughter
Margarette Taylor 9 Peru, Britith Subyect Granddaughter
Alexander Taylor 8 Peru, Britith Subyect Grandson
Charlotte Susemihl 33 Germany Lodger
Name: AUSTIN, Sarah Record Type: Deaths
Age at death: 76 Quarter: March Year: 1882
District: Kingston County: Middlesex Surrey
Volume: 2a Page: 195
---
Sent: Sunday, March 15, 2009 12:32 AM
Subject:
Re: Continuation Don't Know Photos 8
YOung girl holding flowers is similar to pic I have, I think its my mom, marie.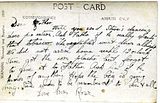 ---
Carolyn,
You and I need to talk re photos - yes it is definitely Marie (did you see my answer to everyone?) When I talked to your mother several years ago and talked about my Grans photos and the memoirs she did (my mother typed them up) Marie said she didnt have ANY old photos - Rose probably had them all!
I sent her a copy of my Grans Memoirs and likely also copies of old photos I had. But if you have ANY old photos of any of the family that are not copies I might have sent PLEASE either scan them and send - or send to me and I will scan and send back - or something. Including any snapshots that include you and your family in early years........... These photos are becoming a wonderful treasure trove!!!
PS Do you happen to have an email address for Rosemarie Vessio? Or a phone number - your mother might have one - maybe we can get her "in" on this!!
Barb

---
----- Original Message -----
Sent: Sunday, March 15, 2009 9:17 AM
Hi Dad,

Let me know what you think of this "touch up" job. I have included the original and touched up for comparison. I you like it, it can be printed and framed. Need you feed back.



Harvey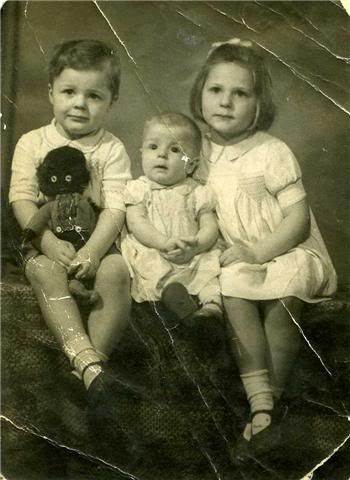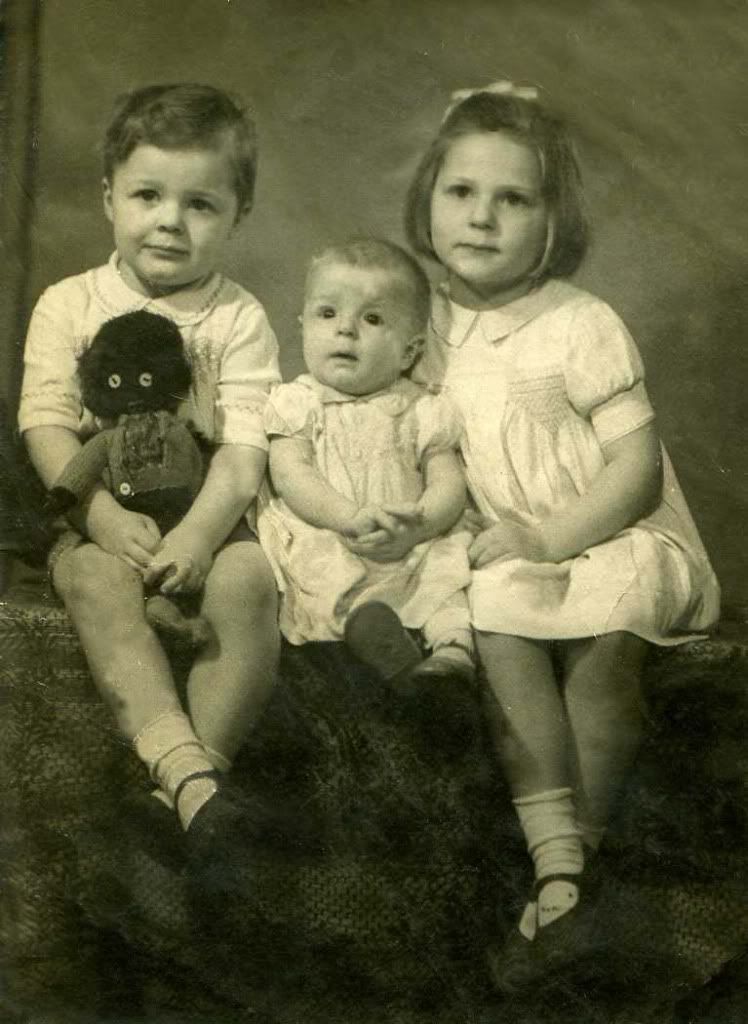 (BRILLIANT JOB HARVEY!...Liz
---
Sent: Sunday, March 15, 2009 9:46 AM
Subject: Fw:


Harv,
Yes this looks good, not sure how you did it, but it looks better.
Have you signed up with Liz yet, I know you said you were saving these e mails, if you sign up you will not need to. They are all on the web and you can reference them aytime
Dads.



---